A Southern Lifestyle Co.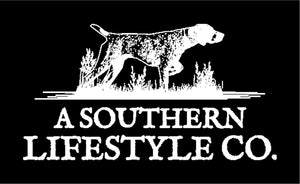 A SOUTHERN LIFESTYLE COMPANY
"A Southern Lifestyle Company" was born a few years ago when my wife and I decided to start a company that fit our lifestyle and love for the South.
What started out as a simple idea quickly transformed into a brand that so many people have gotten behind. We are so blessed to be able to do what we love and make a living at the same time. We are proudly Georgia Grown and Veteran Owned and will continue to keep making products that reflect our love and pride in southern living. 

A Southern Lifestyle Company really does offer something for everyone from the hunting enthusiasts, the avid fishermen, the southern belles, the dog lovers, the home-cookin mamas, the front-porch sitters, to everything in between! With a variety of designs, apparel types, food items, handmade gifts, and more, no one will ever be left out! Our brand truly is one-of-a-kind.
Our ability to provide excellent customer service is by far one of the most important things to me and my wife. If you are looking for an answer and can't find it, we're here to help! We hope to continue to provide that same excellence for years to come and thank you from the bottom of our hearts for all of the support you've shown us through the years.
Thank You For Your Business! V/R God Bless, Danny & Sarah Merritt
A Southern Lifestyle Co.