ZOX Wristbands and Watch Bands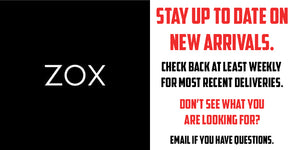 What are ZOX? Uplifting wristbands and watch bands that are made from recycled water bottles.
ZOX is a small family-owned business based in Austin, Texas that was started by three brothers around their kitchen table centered around three pillars:
Uplifting reminders aimed at helping with mental health and mental health awareness, sustainability, and collectability.
Back in 2005, scientists found that we have around 60,000 thoughts a day on average. What shocked me, however, was their discovery that nearly 80% of those thoughts are negative, and 95% were repetitive. That, my friends, is why we created ZOX.
ZOX are eco-friendly & collectible bracelets and watch bands with awesome little words of encouragement hidden on the inside. ~80% of people we surveyed said that they bought ZOX as a gift for loved ones who they believed could use the uplifting reminders.
ZOX Wristbands and Watch Bands